DESCRIPTION:
Instructions for upgrading SnapStream Enterprise TV Link software to the latest build of version 4.9.3. See Upgrading to version 4.9.3 of Enterprise TV for instructions on upgrading the SnapStream Enterprise Server.

If you experience any problems, please contact SnapStream Enterprise Support. 



ARTICLE:

1. Exit Programs. Save any open documents and exit all open programs, including SnapStream software. The Enterprise TV Link update may require you to restart your computer. 



2. Download and run. Download the upgrade installer. 



 
Enterprise_TV_Link_4.9.3.6535.exe
Then run the upgrade installer by double-clicking on its desktop icon. 

OR 

Insert the SnapStream Link CD into your computer's CD drive. The update should begin automatically. If it does not, open Windows Explorer and navigate to your CD drive, then double-click on the upgrade installer setup.exe to start the upgrade. 



3. Installation of prerequisites.Before installing the update, the installer will check for prerequisite Windows components. The major component that may require an update is the Microsoft .NET framework. You may see the following screen for several minutes: 



Please allow installation of the .NET framework to complete without interruption. After this step is complete, you may see the following window: 




Select Yes to allow the system to restart. Once Windows has restarted, please log in to Windows. The installation should continue automatically. If it does not, double-click the following icon: 







4. Perform the upgrade. Follow the onscreen instructions. 

The installer should automatically detect your Enterprise TV Link Product Key. If it does not, you will see a screen similar to the following.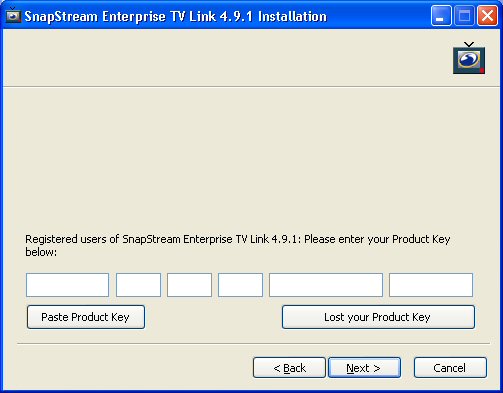 Your key should be available in the System Information section of the Enterprise Server's print documentation. This documentation should be available from your network administrator or IT department. 



5. Finished! You may now connect to your SnapStream Server.