DESCRIPTION:
SnapStream Enterprise TV iPad App
ARTICLE:
We're excited to announce that SnapStream's new iPad app is now officially available in the App Store! If you're on SnapStream 5.10, you can go download the app right now, for free. If you're on 5.9 or below, please schedule your upgrade with our support team. Below, we'll walk you through the app's capabilities, so you can start using it today!
Requirements:
SnapStream SD / HD with Enterprise TV 5.10 or later
iPad with iOS 6.0 or later
Recordings / Clips will need to be transcoded to H.264
SnapStream SD / HD computer name needs to be resolved from the iPad
1. Search and browse your TV library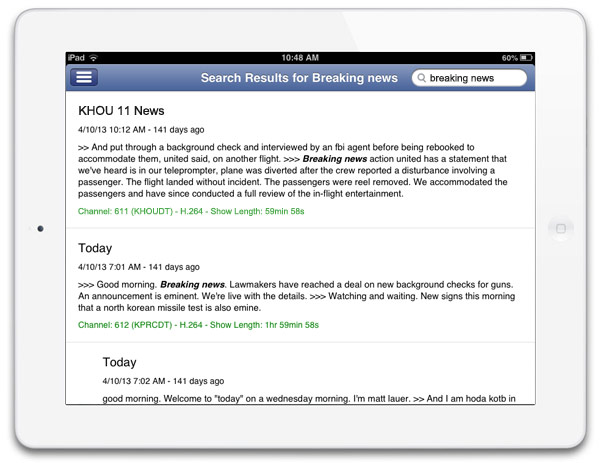 Access your SnapStream TV library from your iPad and browse by series, by channel, by date and by clips. Looking for a specific mention? Use the search bar in the upper right-hand corner to quickly find keywords in the closed captioning and program metadata. The library and search results will only display content that has been transcoded to H.264.
2. Play TV recordings and clips in H.264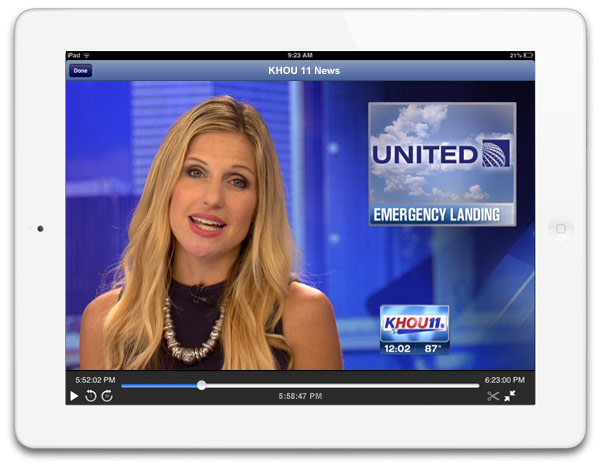 The portability of a tablet makes it easy to bring TV where you need it, which isn't always at your desk. Leveraging the power of the SnapStream ShowSqueeze Node, transcode your TV content to H.264 to make it iPad-friendly. Next, you're ready to play TV recordings and clips from your iPad.
3. AirPlay SnapStream TV content
We made SnapStream's iPad app compatible with AirPlay, so you can collaborate on TV projects in your classroom, boardroom or office lounge using Apple TV. It's the best way to display and share your TV content for meetings and presentations.
4. Create unlimited TV clips
Can't see the animation? Click here.
The clipping tool is extremely intuitive for the iPad. Swipe your finger down in a vertical motion to drop pins at your start and end points. Pinch the screen or press the scissors to create a clip. Type in a name and it will be saved to your "My Clips" folder.
5. Share TV clips, from iPad to the cloud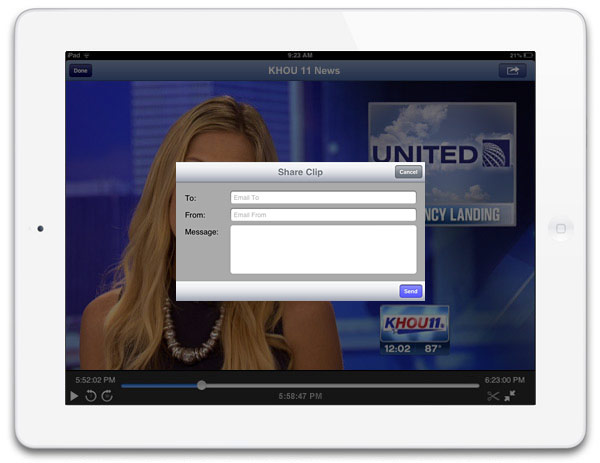 Use SnapStream's iPad app to collaborate in the moment. Share TV clips from your iPad to the cloud, to be viewed by anyone, from any device, from anywhere in the world.
How can I get the app?
Schedule your free upgrade to 5.10 using the Enterprise Support Form or via email at support@snapstream.com. If you're already on 5.10, download SnapStream from the App Store and be sure to let us know what you think!
All software upgrades are free for current SnapStream customers who have a valid support contract and meet the hardware pre-requisities.