In the United States, the Commercial Advertisement Loudness Mitigation Act (CALM Act) regulates the audio of TV commercials in relation to the TV program they're accompanying. While watching TV, have you ever heard the volume increase when your show jumped to a commercial break?
The volume increase could have been the result of systems that hadn't normalized the content based on the loudness.
Citing industry officials, the Los Angeles Times reported that due to the switch to digital TV in the United States in 2009, "the higher fidelity sound made the commercials seem even louder." In 2006, the ITU-R had created a loudness algorithm (referred to as BS.1770-#, which nowadays has five variants) to help make sure commercials were not blaringly louder than the programs they were accompanying.
That algorithm makes "Loudness Units relative to Full Scale" (LUFS), also known as "Loudness, K-weighted, relative to Full Scale" (LKFS). LKFS is technically an amplitude level, but it's not just the measure of an electrical signal. It's an attempt to measure how humans perceive the loudness of broadcast audio.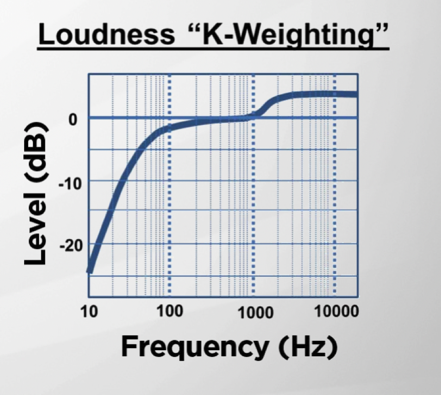 This graph represents the filter applied to the raw audio input so it can be adjusted to compensate for how humans perceive the loudness of different frequencies. K-weighting is part of the equation used to determine the LKFS value. It has two parts— the first is weighting different frequencies based on how loud they're perceived. The second is modeled after the "acoustic effect" of the human head.
Here's an analogy to help you understand LKFS: audio level is to LKFS what temperature is to wind chill temperature (or heat index). Humans don't perceive low frequencies as sounding as loud as they actually are, but they perceive high pitched sounds to be louder than they actually are. That's why high pitched sounds have a higher K-weighting.
The loudness algorithm the ITU-R created was not implemented in the United States until a few years later. In 2010, Congress passed the CALM Act. The law came into effect on December 13, 2012. It stipulates that in relation to the TV programs they are accompanying, all commercials must have their average loudness adjusted to be within a fairly narrow range of a fixed target. The law only applies to television programming—it does not apply to radio or internet programming.
Key Facts about the Commercial Advertisement Loudness Mitigation (CALM) Act
Congress passed the CALM Act in 2010 to regulate the audio levels of TV commercials in relation to the TV programs they're accompanying.


California Congresswoman Anna Eshoo authored the CALM Act. Part of her inspiration? The LA Times reports that she was "blasted by blaring ads on TV during a family holiday gathering."


For loudness compliance, the CALM Act references a document called ATSC A/85 RP.
For compliance, the law points broadcasters, cable operators, satellite TV providers, and other multi-channel video programming distributors to the ATSC A/85 RP.
A/85 RP stipulates the use of ITU-R BS.1770-1 in the United States. It also recommends the adoption of a fixed target loudness of -24 LKFS. Annex I.7 of the ATSC A/85 RP states that there should be a fixed target loudness of -24 LKFS, + or - 2 dB.
A/85 RP also notes requirements other than loudness, one example being dialnorm. Dialnorm means "dialogue normalization." Dialnorm specifies the average dialogue level for audio in absolute terms. Say you're going from your main program to a commercial. The main program features soft-spoken people, whereas the commercial features loud people. On playback, the consumer receiver would automatically modulate the low dialogue up, and the loud dialogue down.

A visual representation of how dialnorm works with a consumer cable box.
Luckily, as Dave Moulton wrote in TV Technology, if you're using dialnorm, "you don't need to worry very much about LKFS, because properly implemented dialnorm will pretty much take care of it for you."
It's important to stay on the right side of the CALM Act. If viewers complain to the FCC about your organization's loudness level, and the FCC notices a pattern of complaints, it will start an inquiry or investigation for your organization. If there is an investigation, you'll have to spend time proving that your equipment, and how you've maintained it, is in line with the law. If you don't show actual or ongoing compliance in response to the inquiry or investigation, you may have to pay a fine.
Having a record of exactly what your programming sounded like when it aired will save you hassle and frustration. You will quickly be able to gather evidence and respond to viewer complaints.